A lot of times I get asked what do I use when I work out?  Shoes, gear, and all the little extras for everything after and in between.
I thought it would be easiest just to list it all with photo examples, so here we go!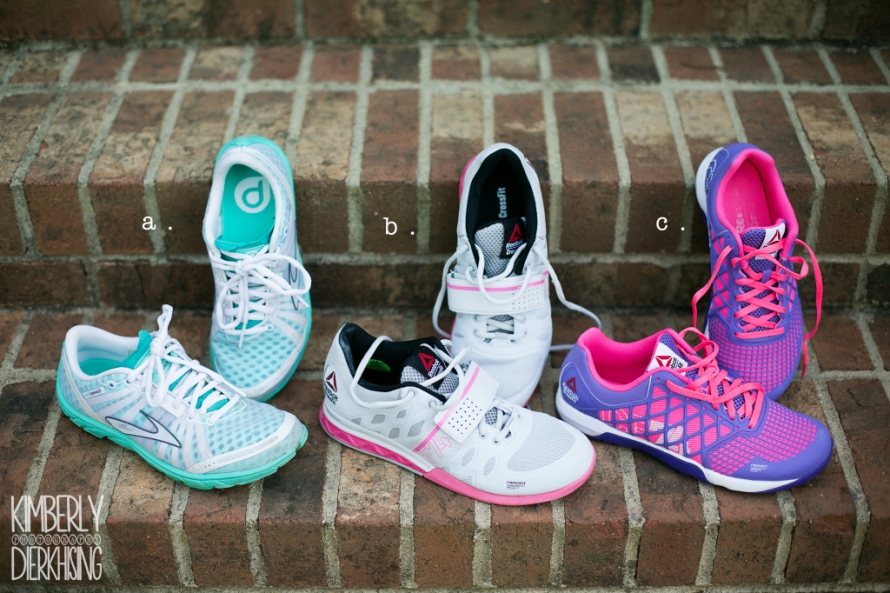 A.  Brooks Pure Connect.  These are my running shoes.  They always say there is the right tool for the job so yes I need different shoes for different types of fitness activities.  I like these because they have good support in the arches (which I need because I have a higher arch), are lightweight, and overall pretty comfortable.  Plus you can't beat one of my favorite colors!  MINT!
B.  Reebok CrossFit Lifters.  These are designed to have a very flat footbed and to help you keep your weight in your heels.  This is really good for any type of Olympic weight lifting really… deadlifts, snatches, cleans, squats, presses.  I'm not sure if it was the shoes or me getting stronger, but I wore them for the second time yesterday and got a PR of 10 pounds on my power clean!  I recently purchased these from our Reebok outlet for $99 on clearance (cashier gave me an additional 10% off coupon that they had making them $89!), plus it was buy one pair of shoes get another 1/2 off so then I bought the shoes pictured as letter C.!
C.  Reebok CrossFit Nano 4.  Every Tuesday and Thursday my oldest daughter has swim, so I thought I'd swing into the Reebok outlet to see if they had any new nanos in stock.  I had really needed a new pair as my old Nano 3's were starting to look a little rough.  I did NOT care for any of the women's colors.  So, I thought maybe the junior's would fit me…turns out I was right!  I wear a women's 7.5, but in junior's I wear a 5.5.  So, not only did I score an awesome color pair of Nanos.  They were $10 cheaper than the women's.  So, I bought the lifters and the nanos for SUPER cheap!  Nanos are my go to shoe for everyday workouts CrossFit-ing.  They have a flat footbed which is helpful for lifts, kettlebell swings, and movements that you don't want to have squishy type of footbed that most athletic shoes have.  They also have a reinforced toe which is helpful for pushups, box jumps, burpees, wall climbs, handstand pushups and every other movement that would require banging your toes on or against something.  The middle of the shoe is designed perfectly for rope climbs and descending the rope.  By far the most essential shoe out of all three.  I wouldn't suggest running a marathon in these, but you can definitely do a mile or two.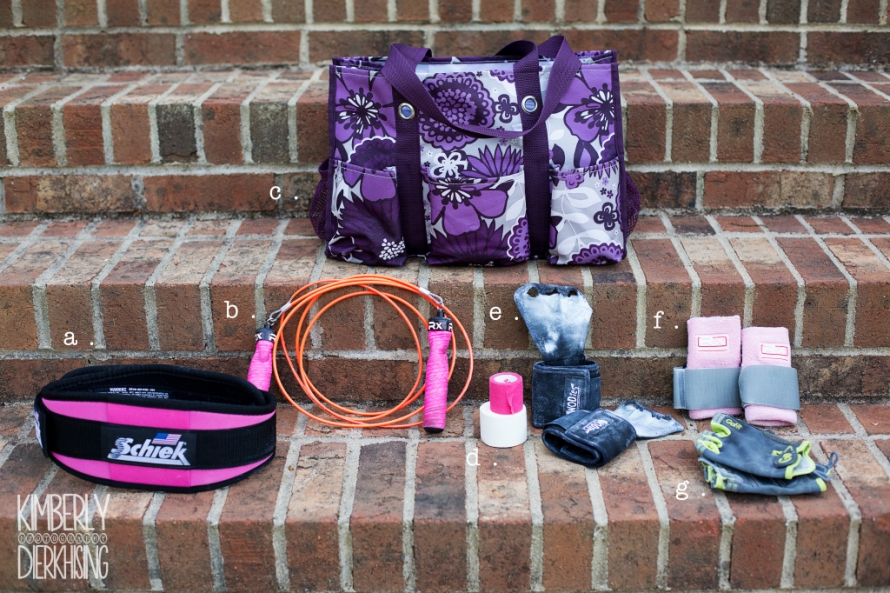 A. Schiek Weightlifting Belt.  I recieved this as a gift for Christmas.  It is great to help give you that extra support with most lifts.  I usually wear mine for deadlifts and squats.
B. RX Gear (RX Jump Ropes) Custom jump rope.  This is a must when learning your double unders, or if you're in the market for a good quality jump rope.  You can choose your color handles, the legth, width and color of your cable.  I chose a heavier weighted cable just so I could feel where my rope was.  I also bought a lighter weight replacement cable, but just haven't been able to get the feel of that one just yet.  I highly recommend these ropes!  I definitely feel like it helped me learn my double unders quicker and am now more efficient with them having a rope that is meant for my height.
C. Thiry One Tote.  I had purchased this and had meant to give it away as a baby shower gift but ended up doing something different for the gift.  So, this became my gym bag. It works great with all the little pockets.  I can easily find my keys, store my phone, and it fits everything pictured and then some!  Netted side pockets are great for my water bottles too!
D. Atheletic Tape.  This covers a multitude of things.  From taping my knuckles on tire flipping days, to my thumbs for on power cleans, and my shin on rope climbing days.  I used to tape my hands for pullups, toes to bar, and anything that would ruin my hands.  But, I purchased some amazing grips that work a gazillion times better than tape that would roll up!
E. Wodies by JerkFit.  These are an amazing little grip that also double with built in wrist support.  These bad boys take you from pullups, to toes to bar, to kettlebell swings, to muscle ups, and oly lifts without your hands becoming shredded pieces of meat.  I did however have to cut off a pair of light socks to wear underneath on my wrists so they wouldn't become rubbed raw.  I wish I would've bought these MUCH much sooner than I did.  They are spendy.  But, compared to other grips out there, I'd say these are very much worth it.
F. RX Gear Wrist Support.  I actually won 6 pair of these!  So, 5 friends and I scored these from just guessing the right number on their Friday giveaways on Facebook.  These are good with all wrist intensive movements.  Push press, jerks, front squats, you name it.  I don't always wear these, especially if the weight is lighter.  So, they are nice to have but I am glad they were free!  I also made myself a pair of wrist-wraps from some thick fabric and non-slippery shoelaces that work really well too!
G.  C9 Lifting Gloves.  I used to wear these often, but have come to not really like them a whole lot.  I'd rather feel the bar on my hands.  So, now they get used if I have a tear and don't want to aggravate it further.  Otherwise, not a huge essential in my book.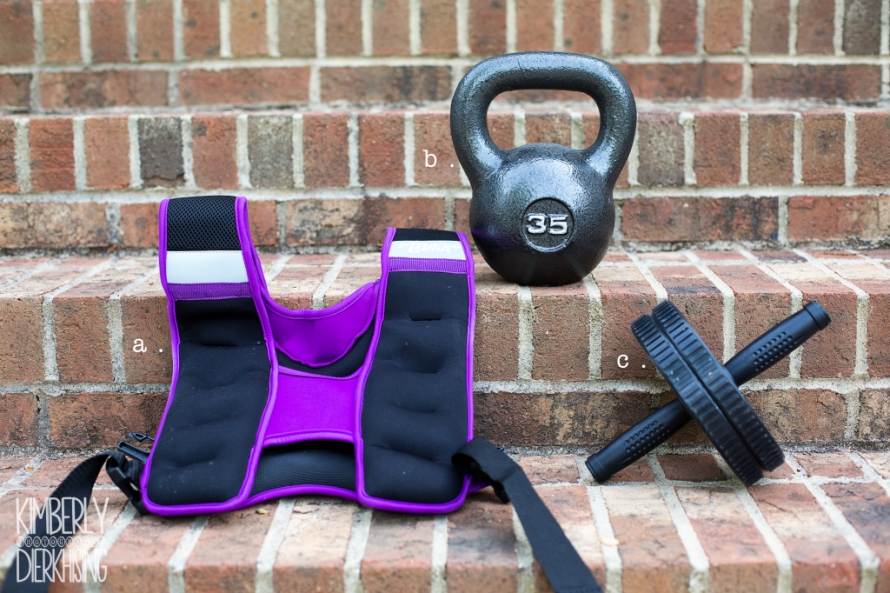 A.  10lb. Weighted Vest.  There are times that a WOD will require a vest, so it is nice to have your own.  But, it is great for running in, doing squats, or pullups.  Really great to just have to give yourself a challenge.
B. 35lb. Kettlebell.  I got this for mother's day last year along with some workout clothes.  There are so many movements that you can do using this little bugger!  Obviously kettlebell swings, lunges, squats, situps and probably a whole bunch more that I can't think of at the moment.  I think for something at home that is an effective weight object this does a great job being versitile!
C.  Ab Wheel.  This simple little object works your core like non other.  Simply, put your hands on the handles while on your kneels and slowly roll away from your body and then pull yourself back in.  Voila' abs of steel!  It was maybe $10 at TJ Maxx.

A. Paralette Handles.  These aren't a huge necessity, and actually had forgot about them…that's why they weren't pictured in the above photo.  These are good for L-sits which work your core like non other!  They are also great for deficet pushups.  I'm sure they have other uses too, but that is what I use them for.  Again, not a must.  But, hey they were also under $10, so why not?

A. The Stick.  You may as well just call this a mid-evil torture device.  This is used to roll over those amazing sore muscles.  And let me tell you the pain and suffering this causes me.  Especially rolling them over tight quads and hamstrings.  But, non the less a great tool for recovery and torture…if you're into that kind of thing.
B. Yoga Mat.  I use this if I ever do yoga (duh), for stretching or at home wods that require situps or something of that sort.  Its pretty pink color, thick squishiness, and carrying handle make it great to have for at home workouts!  And again, under $10!!!
C.  Stretching Strap.  I don't use this often however it was also free (thanks to my hubby scoring a 90% or higher on his PT test), so it is great for stretching out those hamstrings.  I still have to look up the other stretches to do with it.  But, again…incorporating stretching and mobility into your day or post workout will lessen your chances of injury.
D. Foam Roller.  I LOVE this thing, and hate it all at the same time.  I roll out my back, my quads, my hamstrings, my lats, shoulders, hips, and pretty much anything you can stretch.  I really like that this is a stiff type of "foam" on the outside with the ridges and bumps, compared to an all foam roller.  This really is what I'd choose for a foam roller because it is soft, but firm all at the same time.
So there ya have it!  I have quite a bit of workout STUFF!  And, let's not even begin to talk about my clothes.  I wear workout clothing 90% of the time!  If you're curious about any of these items, just look them up on Facebook, Amazon, Google….you can pretty much find where to purchase them from those sources!
What is the ONE thing that you call a "must have" in your gear?
Take Care of Yourself!
~Kim