I can distinctively remember the first time I encountered CrossFit.  It was the grand re-opening of CrossFit Clayton and I had gone to watch and take a few photos of some of its members doing a WOD (workout of the day).  There were quite a few people doing the workout so there were multiple heats.  I was pretty sure burpees were included in this workout.  People of all shapes, sizes, ages, males and females were throwing themselves down onto the floor and then standing up quickly with a clap over their heads.  What is this non-sense?  And as I watched each individual push themselves through each movement, I also witnessed the comradery of the athletes that had already worked out or were on deck.  Giving the encouragement that was needed to push just a little harder, a little faster, and the positive reinforcement that was being given to the athletes' efforts.
That was it for me.  That was the type of enviornment and group of people I wanted to surround myself with.  It didn't matter if you had finished the workout first or last, you had a WHOLE group of fellow athletes and coaches encouraging you.  Wanting you to do better.  To be better.
There is something about doing helacious workouts with a group of people every day that makes you bond.  Your strenghts and weaknesses are exposed.  A multitude of emotions are felt on a weekly basis; pride, discouragement, pain, relief, success, accomplishments, excitement, humbleness, defeats…and nothing like having a bunch of people experience those things along side you to understand what you need to hear or be said.
There have been days that for me were very humbling, difficult, hard and I wanted to quit.  But, having your coach(es) and fellow athletes to support and encourage you makes all the difference in the world.
Same goes for being the cheerleader, I LOVE getting people pumped, or encouraging them to keep going.  To see my friends succeed in hitting a PR (personal record) on a workout or a lift is exciting!  To get that new gymanstics move or to beat a goal they've been working so hard for is so uplifting!
Unfortunately, not everyone feels the same way.  You may encounter those parasites in your gym, your work, group of friends…may I suggest you not focus on them.  There will always be someone somewhere that may not be as excited about your accomplishments.  No matter though, YOUR accomplishments are YOURS and celebrate them with those who uplift you just the same.
CrossFit is one of the only sports I have encountered where the person finishing last gets the most cheers.  Last year during the CrossFit games in Carson, CA during a WOD that had chest to bar pullups an athlete had a hard time completing his last few reps due to tearing his hand.  Another athlete took off his hand grip and gave it to the athlete so that he could have some relief between the bar and his skin and to finish the WOD.  Now, that is being a good sport!  Especially since they were competing against one another!  Check it out here on YouTube: CLICK here for video!
Not only have I witnessed the team building on a daily basis in my own gym, but through photographing multiple competitions.  I can truly attest to some great moments that I've captured on film, but have also been able to be litterally in the middle of it all!
So, I encourage each of you to make a difference in someone else!  Be a TEAM PLAYER!  Cheer for that person that is doing better than you (they need it too), cheer for the person giving it their all and everyone in between!  Show your support in whichever way you can, be it going to a competition, saying "hey great job today",  or offering up some positive feedback!
"If you want to go fast go alone.  If you want to go far, go together." – African Proverb
Take Care of Yourself!
~Kim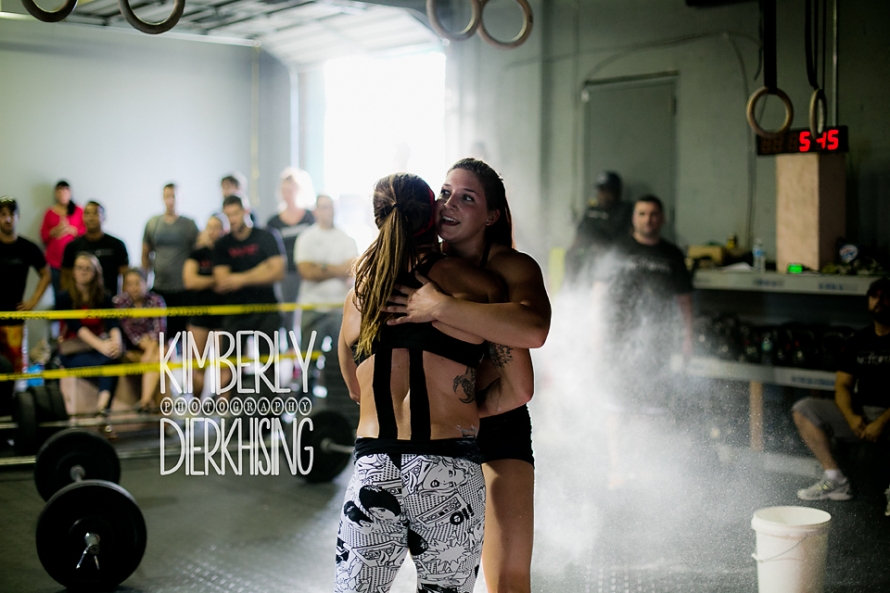 Photos below are from the recent team competition in Goldsboro, "Battle of the Boro'".  I went to cheer on my teammates competing despite the rain!  These are the types of people I choose to surround myself with!  A bunch of bad a**es, who know how to throw it down, and have a FUN time doing it!